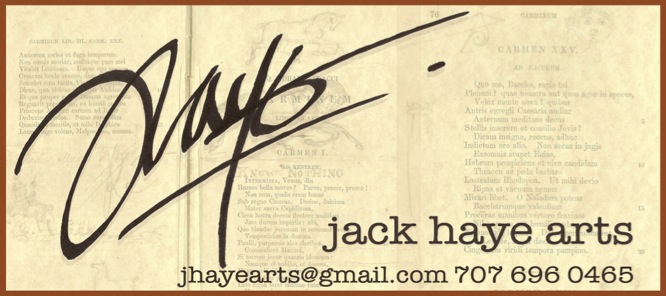 RESUME' and REELS
Digital Modeler/Matchmover/Generalist

Jack Haye is a Computer Graphics Artist with almost 20 years experience in Computer Graphics and almost 25 years experience in Visual Effects. His experience ranges from set and miniature building to Hard Surface Computer Modeling and Matchmoving with lesser amounts of experience as a TD and as a 3D Compositor. He has most recently worked at StereoBox 3D in San Rafael Ca, where he was responsible for matchmoving as well as 3D compositing in NUKE.

Prior to that he worked as a digital environment modeler at Virtual Space Entertainment where he is primarily responsible for laying out and creating large virtual environments. To date he has worked on virtual environments for the Smithsonian Institution, National Geographic and for Blue Mars an online virtual world currently in beta testing. He worked at Industrial Light & Magic from 1988 until 2007. He started within ILM in the Modelshop and has been in the Computer Graphics department since 1994. He has also worked freelance, largely in the construction of sets and miniatures.

His major focus since 1997 has been hard surface digital modeling, but since 2004 with ILM's new "digital artist" paradigm, he has expanded his skill set to include Technical Direction (mostly creature lighting and rendering), Photomodeling (using ILM's Proprietary software "Zeno"), large-scale digital environment creation which involves both creating an environment sphere and photo-modeling from that sphere, and texture painting. There is also some Layout type work that is necessary for these other tasks.

He has extensive experience in Matchmoving and the manipulating of digital cameras within a 3D environment. He also has extensive experience with the construction of sets, both digital and real world. He has spent quite a bit of time as an on-set location matchmover and has been proven to have the skills necessary to work closely with first-unit shooting teams. He has worked on-set with George Lucas, Stephen Spielberg, Tim Burton and Joe Johnston. Before the most recent modelling project, the past year +/- was spent heading up the layout department for an un-named all-digital feature at ILM. He works in Maya, Alias Studio, SoftImage, PhotoShop and various proprietary software packages.

As a Location Match-move Supervisor for Star Wars Episode I, he was responsible for training and overseeing two locally hired crews in the gathering of crucial camera-related information. He was also responsible for training and overseeing modellers for Match-move purposes. He made London, England his home base for the duration of studio shooting and then traveled with the Star Wars Episode I First Unit to Caserta in Italy and to Tozeur, Tatauooine and Medenine in Tunisia and back to London, for the completion of principal photography on Star Wars Episode I. He also traveled to ARRI in Vienna, Austria for conferences with engineers regarding the Data Capture System which was used during production of Episode I.

Before joining ILM he worked as a free-lance graphic designer and photographer. He has also worked as a construction supervisor for large-scale residential projects and as a custom carpenter, building Japanese-style custom homes.

He has interests in art, history, music and architecture and spends his free time making wooden portrait sculptures, which are a combination of hand carving and "found" objects and other art. Originally, from Scheveningen in the Netherlands, he speaks Dutch fluently with a smattering of German and Spanish. He is a Charter Member of the Visual Effects Society and is VP of the Board of Directors for the Phoenix Theater Youth Center. He currently resides in Petaluma, CA with his wife Drew and step-son Henry and their inhuman children Arthur and Princess.
REEL MAY 2011

These videos are also available in higher resolution on youtube.

http://www.youtube.com/watch?v=tNleQi4rbfw

http://www.youtube.com/watch?v=MFJ2mhBkdHg

Here is a longer version of the test render from my reel that i did of a fictitious version of my art studio. It was designed to showcase my abilities as a digital set decorator. It is a fairly low resolution model in order to save rendering time, etc and the lighting and texturing are there mainly in service of the set deco. All of the objects shown (and more) actually exist on my art desk!