FUN ON LOCATION!


These are pix from my years on location as a matchmove technician. This page will be updated often, so check back for more!
Photos by Keith Hamshere unless otherwise noted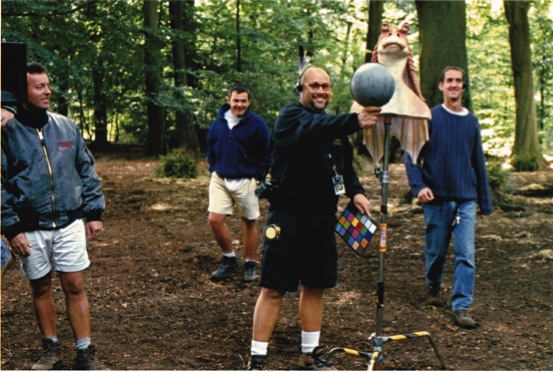 Graham "Albert" Hall, Sean Evans, Jack Haye, David Dranitzke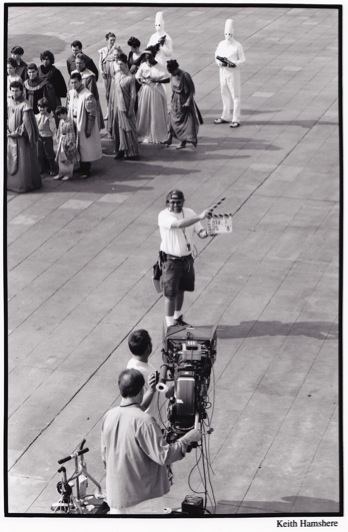 Jack Haye with clapperboard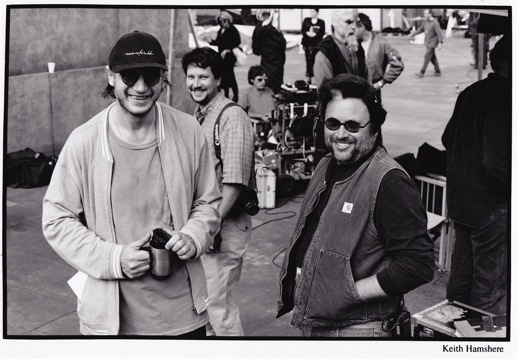 Liam Neeson, John Knoll, Jack Haye
We were laughing about my hair...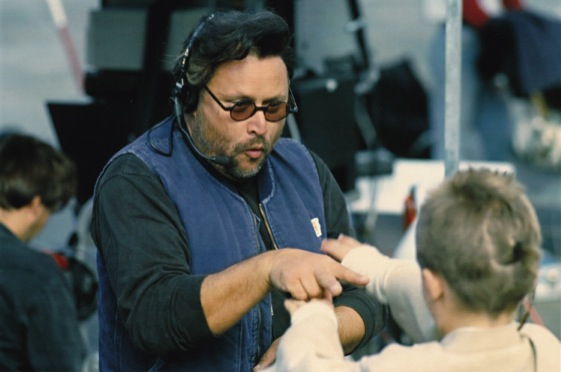 Jack Haye, Jake Lloyd
I think my hair was better than his...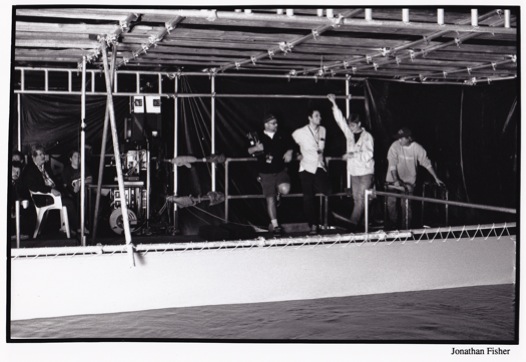 John Knoll, Jayne-Ann Tenggren, GWL, unidentified, Jack Haye, Jon Shenk, Guy Hake, unidentified
Lounging by the pool...
Photo by Jonathan Fisher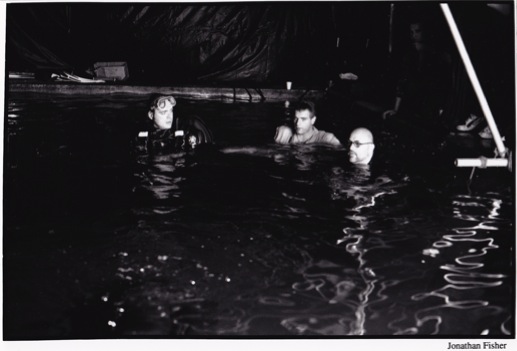 Unknown, Euan Mac Gregor, Jack Haye
Sometimes my job involved swimming...
Photo by Jonathan Fisher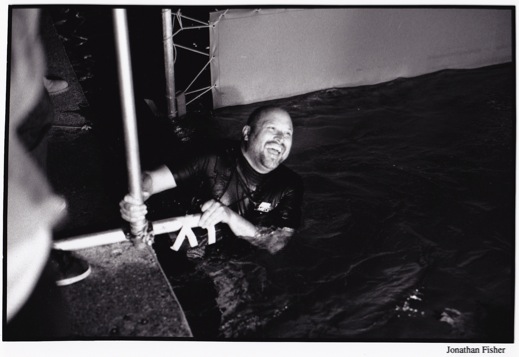 Jack Haye
Sometimes swimming can be fun!
Photo by Jonathan Fisher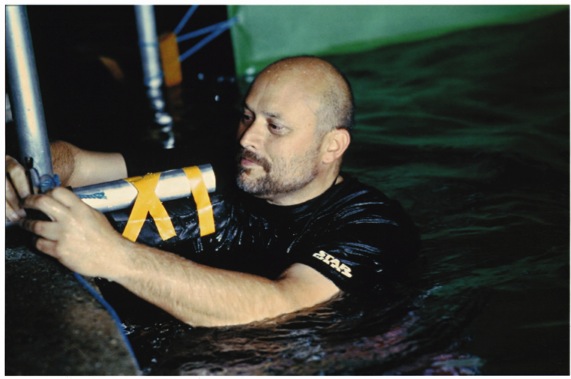 Jack Haye
Gotta have those glasses!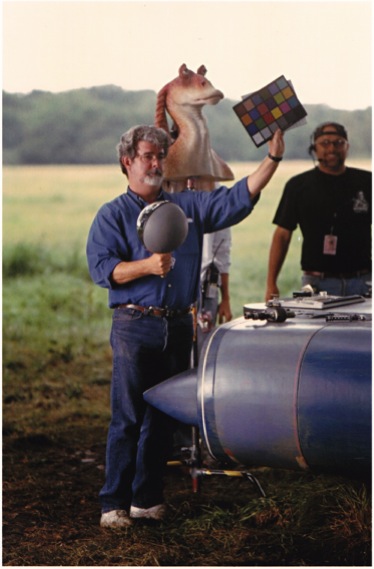 GWL, JJB, Jack Haye
Sometimes the boss got in on the action...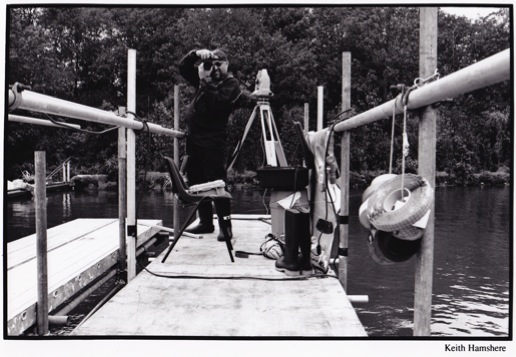 Jack Haye
Always more reference photos... and I still have that taperoll in the foreground almost 15 years later!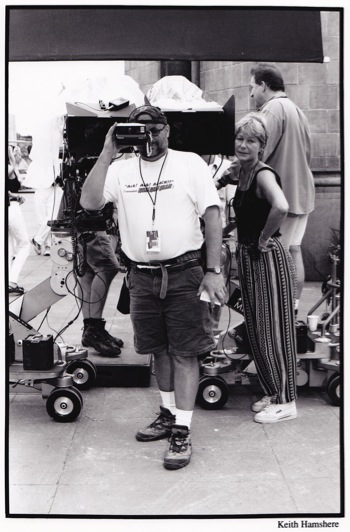 Jack Haye, June Prinz, Trevor Coop with back to camera.
And yet *more* reference photos!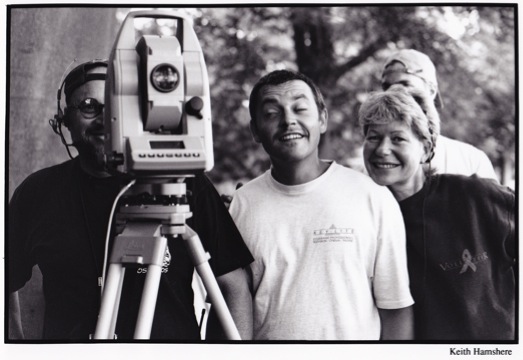 Jack Haye, Theodolite, Sean Evans, June Prinz
Location work allows for a small amount of clowning.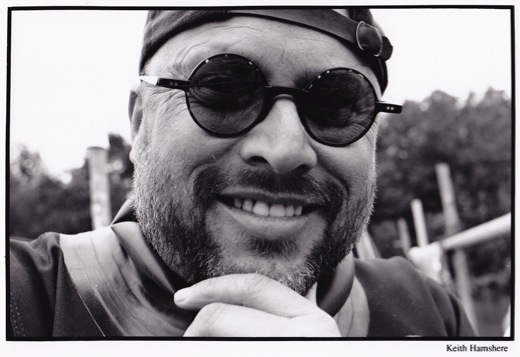 Jackhaye
But not a lot of time for grooming.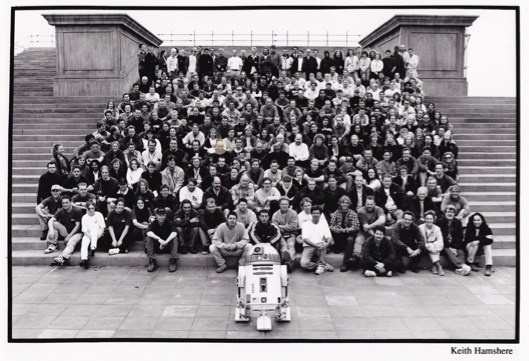 Leavesden Studios Crew Photo. I'm highlighted with a golden glow. ;)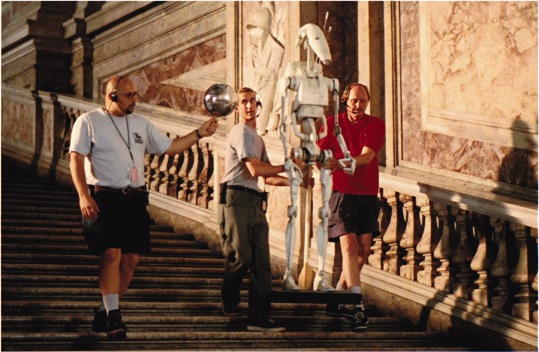 Jack Haye, David Dranitzke, robotic friend, Jeffrey Olson
The globe was for lighting reference and the model for scale reference.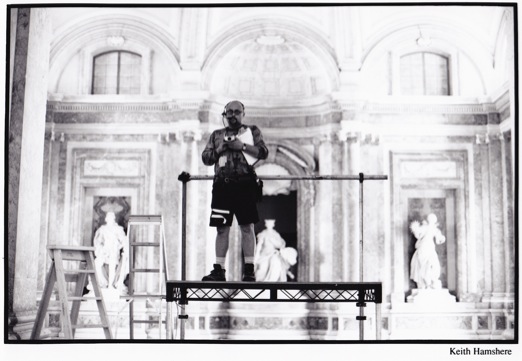 Jack Haye
Location matchmove work also involves a *lot* of measuring... in this case, using a "disto"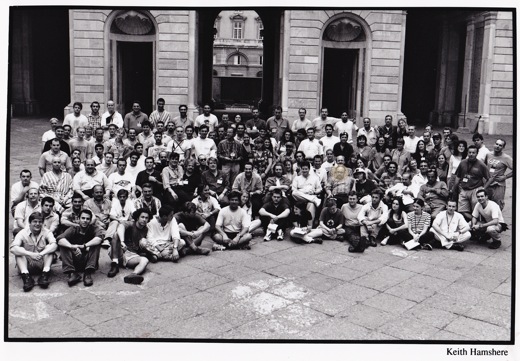 Crew photo, the Reggia, Caserta near Naples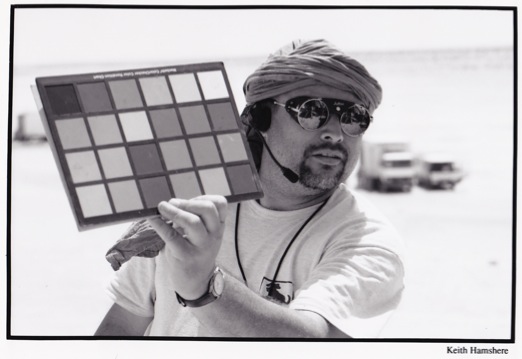 Jack Haye
Chart for color reference. It was pretty hot in Tunisia and the sun was pretty intense. One of the locals taught me how to tie a "sheesh" and I made use of that knowledge every day!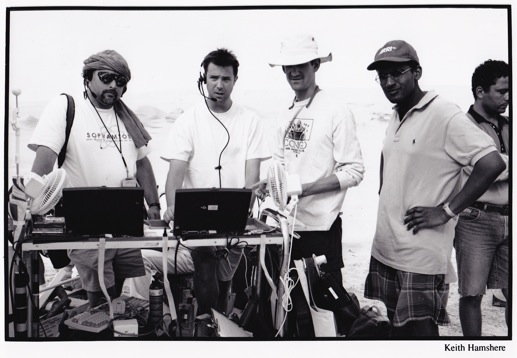 Jack Haye, Ed Cotton, David Dranitzke, unidentified
"SOPWAMTOS" on the shirt stood for "Society Of People Who Actually Make Their Own Shit.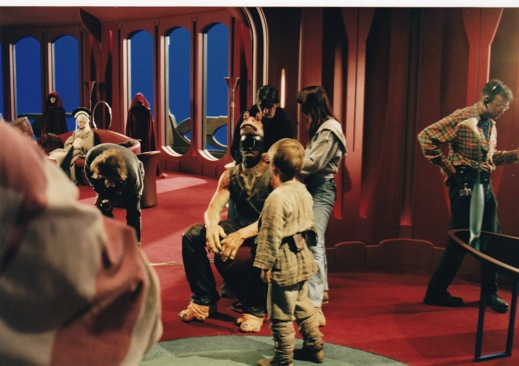 Ahmed Best being prepped by Julie Wright while Jake Lloyd watches... Photos from here on were taken by Jack Haye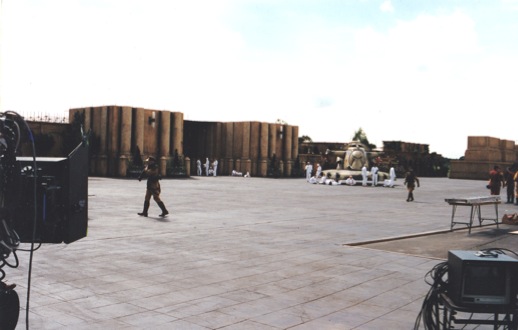 Extras milling around a Theed Plaza set.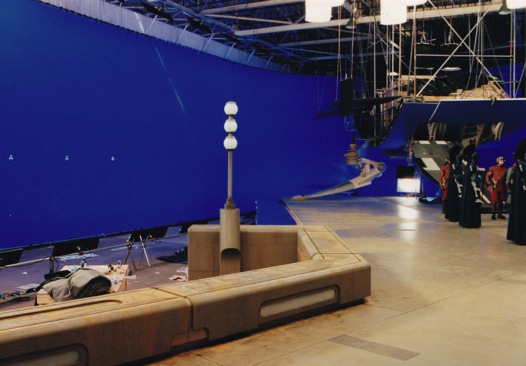 Bluescreen showing tracking marks I placed for reference.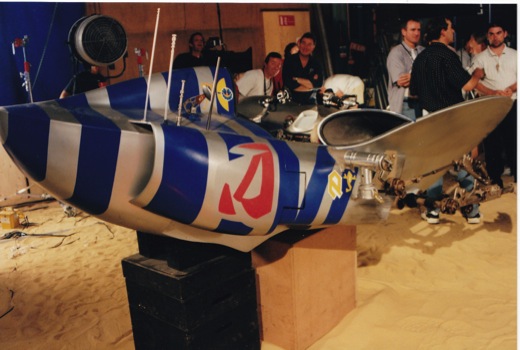 The camera crew tries to wreck my reference shot. From left, Pete Myslowski, "Albert" Hall and Trevor Coop mug while David Tattersall and Joe Letteri discuss the shot.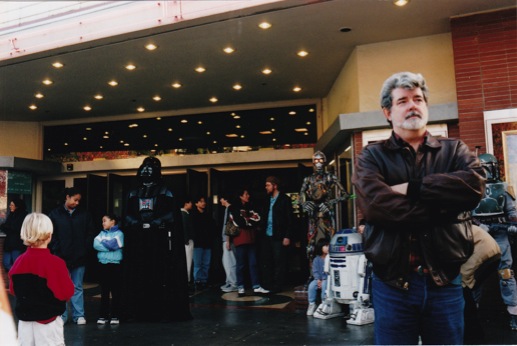 From a promo shoot for National geographic.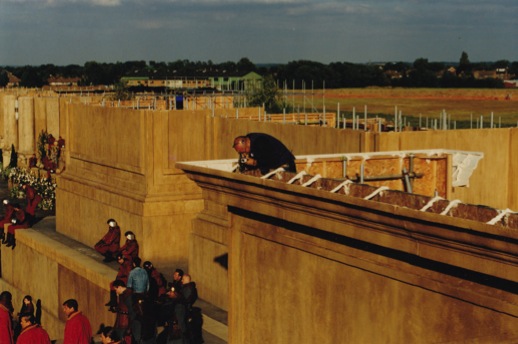 Me and the good old Disto at Leavesden. Photo unknown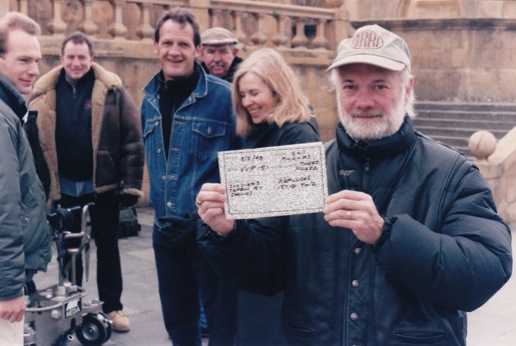 The tables are turned as I photograph onset photographer Keith Hamshere holding a slate for me. In bg unidentified, Trevor Coop, Pete Myslowski, unidentified and Trisha Biggars.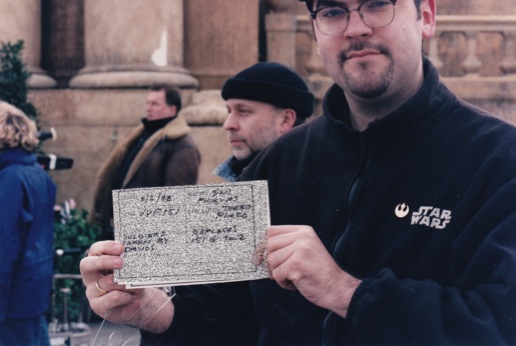 My good friend Simon Dunsden does the same. In the immediate BG John Duclos from ARRI and behind him in arctic parka Camera Operator Trevor Coop.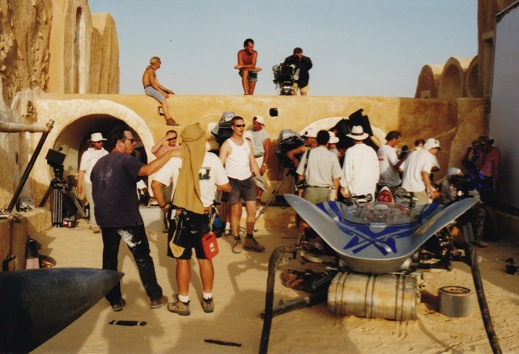 I don't recall whether the producer was giving me sympathy or advice... or perhaps he was just jealous of my "sheesh"! It was so hot that day that we tried to fry an egg on a plucky little blue and white fella.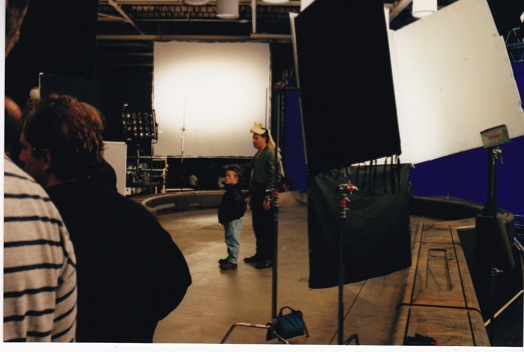 Standins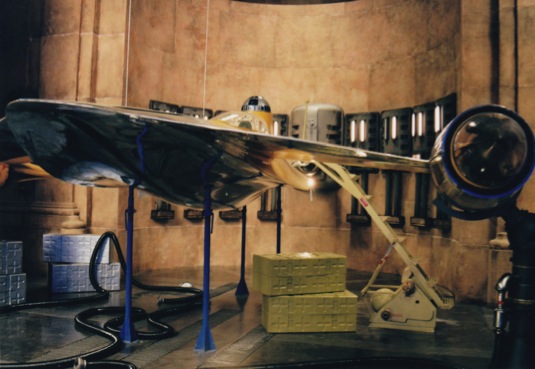 Interior hangar shot.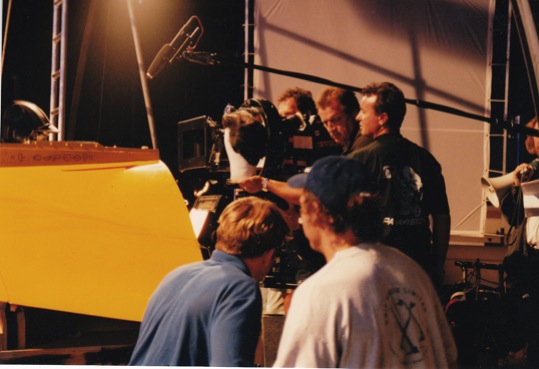 Camera crew lining shot. Pete Myslowski dolly grip, Trevor Coop First Camera Operator and Graham "Albert" Hall First Assistant Camera.